If you're trying to stay in shape, lose weight, or gain muscle, you need to exercise daily. This can involve going to the gym, playing sports, or going for a run or jog around the park. Another increasingly popular option for weight loss and healthy living are keto diets.
Unfortunately, following a keto diet is not enough. Unless you put in the work and exercise along with eating right, you won't see the results that you want.
A great way to boost motivation and fuel for workouts is investing in keto pre-workouts. Nowadays, several options go hand-in-hand with keto diets. A keto pre-workout supplement will enhance your fitness regimen.
With the many pre-workout keto products available, it can be difficult to choose the right one for you. When it comes down to these types of supplements, we have you covered! In this review, you'll learn about the top 5 keto pre-workout supplements sure to work for you. Take your workout sessions to the next level with these hot picks!
1) Perfect Keto Perform
If you are on the keto diet, you'll be pleased to know that Perform Pre-Workout Powder from Perfect Keto offers zero carbs and zero sugar. Perfect Keto is a reputable brand that's been around for many years. This particular supplement was designed to fuel workouts while boosting ketone levels. It is packed with 7.7 grams of beta-hydroxybutyrate per serving. Other ingredients include green tea caffeine, BCAA, MCT, L-citrulline, creatine, and beta-alanine. Of course, we can't ignore its delicious lemony taste!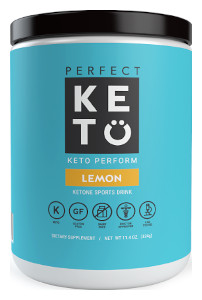 Specs
15 servings per container
Available in one flavor
100% money-back guarantee
Pros
Zero sugars and carbs
No additives or fillers
Improves blood circulation and digestion
Boosts the fat burning process
Can be taken as a snack when in need of a boost in energy
Cons
Only available in one flavor (lemon)
Verdict
We highly recommend this product and are thrilled to hear about all the benefits Perfect Keto Perform offers people. Free of sugars, carbs, and additives, this is an energy booster we highly recommend. To drink, simply mix 0.5 to 1 scoop of powder with 8-10 ounces of water. For best results, drink it 20 to 30 minutes before your workout.
Purchase Perfect Keto Perform Today!
---
2) BPI Sports Workout
This pre-workout supplement is made for individuals on the ketogenic diet. Some users will also take this as a drink when they need a boost of energy. Just like our previous review on Perfect Keto, BPI Sports Workout contains MCTs and BHB salts. These ingredients help the body burn fat while sustaining energy levels.
This sports supplement contains 7 grams of BHB salts. It is available in a variety of flavors: Blue Lemon Ice, Watermelon Ice, Tropical Freeze, and Apple Pear.
Specs
Available in 4 different sizes
Four flavors to choose from
100% money-back guarantee
Pros
Zero carbs and sugars
Several flavors available
Boosts energy, endurance, and fat-burning
Promotes mental clarity
Keto-friendly
Cons
Not gluten-free
Contains artificial colors and flavors
Verdict
BPI Ketogenic pre-workout made our list of top keto pre-workouts because of its amazing taste and effectiveness. This doesn't surprise us since BPI Sports is one of the leaders in the sports nutrition industry. It is worth the investment! To use, mix 1 scoop with 8 ounces of cold water. Be sure to take this 15-30 minutes before your workout.
Purchase BPI Ketogenic Pre-workout today!
---
3) Cellucor C4
The Cellucor C4 made our list of top pre-workouts because of the energy, endurance, and taste it offers. This selection is used a lot by high-performance athletes as it gives them enough fuel to complete workouts. This supplement boosts energy, increases mental performance, and gives that extra endurance when you most need it.
Every serving contains 6 grams of citrulline malate as well as 1.5 grams of creatine nitrate. It's also ideal for those on a diet since it doesn't include any sugars or carbs. It comes available in several different flavors including Cherry Limeade, Orange Mango, Strawberry Watermelon, Sour Batch, and Icy Blue Razz.
Specs
30 servings per container
Sold in 5 flavor combos
Pros
Provides a boost of energy, endurance, and pumps
Available in 5 different flavors
Zero sugars and carbs
Made using patented ingredients
Cons
Expensive compared to similar options
Verdict
After using this no-carb pre-workout, you'll be surprised at how quickly you will notice results. It's so easy to increase reps or get through longer, tougher workouts with the Cellucor C4 pre-workout. When using, be sure to take it 45 to 60 minutes before your workout. This is about how long it takes to achieve that full boost!
Get your hands on Cellucor C4 today!
---
4) Sheer Strength Keto
Our next selection is designed for athletes looking for a high-performance supplement. It allows them to achieve a maximum workout within every training session. Not only is this a performance supplement, but it contains ingredients ideal for keto dieters (electrolytes, L-Citrulline, minerals, and no carbs). Users share they notice results the very first time they take it.
The added BHB salts will help you to replenish lost electrolytes. The result? You will keep hydrated throughout your entire workout. This is vital for both your mind and body.
Specs
20 servings per container
One available flavor (Watermelon Chill)
100% money-back guarantee
Pros
Promotes blood flow and energy
Provides electrolytes and antioxidants
Has BHB salts to replenish lost electrolytes
Cons
Flavor has a lingering aftertaste
Verdict
To use, dissolve one full scoop into 8-10 ounces of water. We're content with the results this supplement offers. If you are looking for a keto-friendly pre-workout powder that helps you stick to your keto, low-carb diet, this is a great option for you. With the Sheer Strength Keto, you'll stay motivated and focused throughout your entire workout!
Purchase Sheer Strength Keto today!
---
5) Onnit Shroom Tech Sport
The last product on our best keto pre-workout review guide is none other than the Onnit Shroom Tech Sport. This option gives you the energy you're looking for without any stomachaches or jitters. It's a popular choice among those who seeking options to prevent fatigue experienced while exercising.
In a 12-week study conducted at Florida State University, users experienced an 8.8% increase in cardiovascular performance as well as a 12% increase in bench press reps and a 7% increase in back squat reps. Users also shared they noticed a significant improvement in their performance after taking this supplement.
Specs
Available in 28ct or 84ct
Sold in one flavor
Pros
All the energy, none of the jitters
Works quickly after taking it
Proven results
Gluten-free and certified vegan
Cons
Not much information about its taste
Verdict
This soy and gluten-free keto-friendly pre-workout lives up to the hype. To consume this low carb pre-workout, take 4 capsules 30 to 45 minutes before your workout. Be sure not to take more than 6 capsules in 24 hours and drink plenty of water throughout your workout. We are very pleased with the proven results of the Onnit Shroom Tech powder. It's a product we highly recommend!
Try the Shroom Tech Sport today!
---
The Benefits of a Pre-Workout Supplement
There are many reasons you may need a keto pre-workout supplement. For example, everyone needs that extra boost of energy to hit the gym after a long day at work. This is the main reason people use pre-workouts. They like the motivation and endurance associated with these supplements. After a long day of work, getting to the gym can be difficult, making these supplements essential!
Aside from energy boosts, there are other reasons to invest in a pre-workout. Here are just a few:
Vitamins and Minerals
One of the nice benefits of keto pre-workout supplements is how much vitamins and minerals they contain. Most of the supplements described in this review replace essential missing nutrients. This is important since the keto diet cuts back on carbs, which also means cutting down on the vitamins and minerals you'd normally take. We are talking about nutrients like chromium, B5, B7, or calcium.
Most keto diets take this into account. However, not all of them do. Supplements like the Sheer Strength Keto offer products rich in antioxidants.
Remember, the keto diet combined with exercise may help you reach the results you want, but it also adds stress to your body. Be sure you're practicing a healthy, holistic approach to your health. Many keto pre-workouts offer the ability to do just that.
Replenishes Electrolytes
Another great benefit offered by ketogenic pre-workouts is they replenish your body by replacing lost electrolytes like sodium and magnesium. This is great for your body especially as it goes through ketosis. These electrolytes keep you hydrated and energized. With any fitness routine, you want to be sure that you're giving your body the fuel it needs to power through physical activity.
Taking pre-workout before beginning your session at the gym will ensure your body is replenished and help you get the most out of your workout.
Fat Burning
Pre-workout supplements help with fat burning. The products covered in this review do a fantastic job of fueling your body and tricking it into thinking there is more fat to burn than there really is. This boost of fat-burning will help you see results more quickly. Not to mention, you'll love the boost of energy received from your pre-workout.
Conclusion
Everyone's goal when stepping foot into a gym is to achieve results. Pre-workouts are designed to boost energy and get through even the most vigorous workout sessions. You may already take a keto pre-workout meal before exercising. However, pre-workout supplements are much more effective because they don't weigh you down the way meals do. If you're shopping for a quality keto pre-workout supplement that works, any of the 5 listed above will take your workout to the next level.