Here at Fit N Style, we are always researching the newest ketogenic products picking up buzz.
The benefits of a keto diet have been widely reported. Keto has been shown to help with fat loss, fight cravings, provide energy for physical activity, and even support your mental health [1].
As you may well know, a ketogenic diet works by reducing your intake of carbs and replacing them with fats. This pushes your body into a state known as ketosis. In this state, your body burns fats for energy. This can work to pull down insulin and blood sugar levels. The result? You lose weight and build muscle.
The popularity of the keto diet is great, but it also means the market has been flooded with an influx of products of hugely varying quality. To help you find the best products to smash your weight loss goals, we've put together a comprehensive review of the best keto protein powders available in 2021.
1. Onnit – Shroom TECH Sport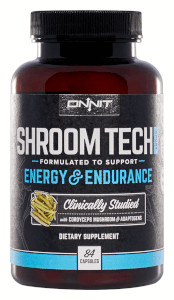 One of the main features of a keto diet is cutting a lot of the added sugars and other modifications from your diet. Many of these added sugars are in the everyday snacks and meals that dominate our eating today.
In line with this, Onnit Shroom have chosen a whey isolate and milk from dairy cows in New Zealand in formulating their ketone powder. They do this, rather than source milk from industrially farmed cows, to prevent antibiotics and GMOs from showing up in their formula.
Onnit's cows enjoy the freedom of roaming in an open pasture throughout the year. The brand believes the benefits this brings is something you will notice.
The most notable benefit is the high concentration of branched-chain amino acids or BCAAs in their products. BCAAs work to construct proteins. If you are looking to build muscle, you know that protein is the king of macros when it comes to nutrients your body needs.
Alongside these strengths, Onnit's TECH Sport contains high levels of leucine. This supports your body's absorption of protein as it works to repair and build muscle.
While not as scientific as facts about the ingredients of TECH Sport, Joe Rogan has endorsed this product. He has publicly said this keto protein powder helps him manage an extra roll at the end of a jiu-jitsu session.
What You Get:
Each serving is one scoop, and you get thirty scoops in a tub. You can choose between a vanilla or chocolate flavor.
Pros:
An impressive 21 grams of protein in each serving
Relatively low 110 calories per serving
Only 1g net carbs in a serving
Entirely free of sugars, soy or gluten
GMO (Genetic Modification) free
Loaded with BCAAs
Cons:
Dairy content makes it unsuitable for those on a vegan diet
Limited range of flavors
Get Fit with Onnit Shroom TECH Sport Today!
Ready to take your boost your fitness regimen? Onnit's ethically sourced, non-GMO keto protein powder is one of the best on the market. Buy yours today and get fit with Onnit!
---
2. LevelUp – Grass-Fed Keto Protein Powder
LevelUp manages to keep its net carb content at only net 1g per serving. This is impressive even for a keto protein powder. For those hoping to build lean muscle or burn fat, this will be a great boost.
Level Up contains 15.8 grams of protein per serving. It isn't the highest amount you'll find, but this keto protein powder also contains 7.9 grams of Medium Chain Triglycerides (MCT). MCTs are a type of fat that athletes utilize. MCTs work differently in the body from other fats. They are useful for ketogenic diets as they break down easily into ketones.
This powder also contains bovine collagen. Collagen has been linked to arthritis relief and improvements in skin health [2]. This ingredient can work to ease joint pain from intense bouts of exercise. Like TECH Sport, LevelUp also goes down the route of avoiding GMO ingredients and opting to use whey from grass-fed cows.
What You Get:
A bottle of LevelUp will get you 24 total servings with a rich, delicious vanilla cream flavor.
Pros:
Ethically sourced grass-fed whey
High MCT content
Unusual additional ingredients like bovine collagen give greater all-round value
Cons:
150 calories per serving – it is higher than Tech Sport with lower protein content. This may not suit those purely focused on building muscle.
Take Your Weight Loss to the Next Level with LevelUp!
This ethically sourced, 100% natural and 100% GMO-free grass-fed keto protein powder is a premium choice for weight loss. Plus, it tastes great! Buy LevelUp today to enhance your weight loss journey.
---
3. Perfect Keto – Collagen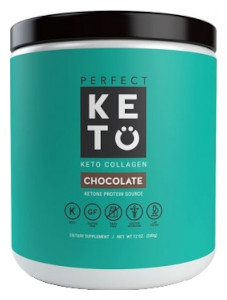 Perfect Keto is popular for their cookies and other ingenious recipes that allow users to maintain ketosis while eating the foods they enjoy.
The Perfect Keto shake powder contains collagen from grass-fed bovine. It supports healthy nails, skin, and hair growth. Collagen also makes up a quarter of the protein content in our body.
The Perfect Keto protein powder manages to pack in an impressive 10 grams of MCTs in a 30g serving.
Many online reviewers point out that animal-derived protein sources like whey or casein are inflammatory. In contrast, collagen, like bone broth, processes more easily. It is also dairy-free, making it suitable for those with an allergy or trying to avoid it.
Perfect Keto offer a stripped back version and an enhanced version as well. The two-ingredient, unflavored product will suit those looking for a simple option. The five-ingredient flavored option is perfect for those seeking a great taste. A nice bonus is that regardless of which option you select, you still get the collagen content.
What You Get:
Perfect Keto gives you 20 servings per container. Each serving is one scoop. You can get the unflavored option for a simple protein formula. For a flavored option, you have great-tasting recipes made with chocolate, vanilla, and salted caramel.
Pros:
Simple ingredients—MCTs, Collagen, Stevia leaf powder, and cocoa powder
Only 80 calories per serving
Collagen for soft tissue repair
Wider health benefits for the body
Cons:
The 4g of fats found in this product makes it less keto-friendly than some other powders we've covered
Some reviewers found the taste overly sweet
Perfect Your Keto Diet with Perfect Keto!
For a keto protein powder, Perfect Keto shines with its simplicity. Its formula supports overall health while also boasting low calorie-count. For the best deal, click here for Perfect Keto!
---
4. Isopure – Vegan Keto Protein Powder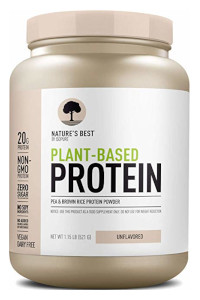 The first vegan option that we will be covering in this list. Isopure busts the popular myth that vegans face a struggle to find protein. This formula contains 23 grams of protein, the highest content we have covered so far. Impressively, the protein content derives mainly from brown rice and peas.
It also ticks a lot of boxes for those on a keto diet. It is non-GMO and gluten-free. In the unflavored version, we also find only 1g net carb content. There's only a slight increase to net 2g of carbs in the flavored options.
One drawback in our comparison is the lack of any MCT ingredients. This is an unfortunate difference with many other powders in our list.
What You Get:
Isopure delivers 20 servings of vegan protein powder with zero added sugar and 20g of protein from rice and peas.
Pros:
Choice of flavors: chocolate, strawberry, vanilla or unflavoured
Impressive protein content – especially for a vegan powder
Cons:
Vegans Rejoice with Isopure Today!
This plant-based, keto-friendly protein powder will have vegans and non-vegans alike rejoicing! With a high protein content, it's an excellent addition to your weight loss and fitness routine. Shop for Isopure Vegan Keto Powder today!
---
5. Perfect Keto – Whey Protein Isolate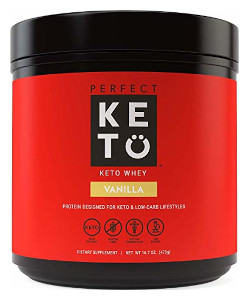 This is another top product from the Perfect Keto team that contains all nine essential amino acids and 15g of protein per serving. You'll find 15g of protein in each serving and 2g of carbohydrates. There's also 5g of MCTs.
To make this keto protein powder, Perfect Keto uses an intensive filtering process. This removes the lactose content that is found naturally in whey.
Like Perfect Keto's Collagen option, this formula contains cocoa powder to provide its flavor. You may not know that cocoa beans are full of antioxidants and polyphenols. These contribute positively to heart health, blood flow, and brain function.
This is a lean and simple option for those looking for a keto whey protein powder. You'll also be pleased to find omega-3 fats in this product. Omega-3 fats can help with eye health, reduce your risk of heart disease, and fight inflammation.
What You Get:
Each container provides twenty 15g servings.
Pros:
Free of chemicals and additives
Careful manufacturing process avoids any lactose presence, helping those with dietary restrictions
Cons:
Currently available only in the US
Lower levels of protein than some other powders in our list
Check out Perfect Keto Whey Protein Isolate Today!
If you're seeking a ketogenic powder without lactose, Perfect Keto can deliver. Check out their buying options here for the best deal!
---
6. Optimum Nutrition – Platinum Hydrowhey
One of the most recognizable brands in the sports supplement market is Optimum Nutrition. We checked out their contribution to the range of keto protein powders.
While this tub is not made specifically for a keto diet, it fits in with the requirements needed to maintain ketosis as it contains only 3g of carbs per serving. It also packs in an impressive 30g of protein in each serving. It's an ideal choice for those looking to recover from intense muscle workouts.
You also get 15.5g of essential amino acids in each serving. These will help your body to quickly process the nutrients it so desperately needs.
The Hydrowhey name is a reference to the fact that this protein is hydrolyzed. This simply means its form can be absorbed quickly and easily by your body. It also has the added convenience of mixing in seconds simply by using a shaker, making it ideal for use on the go.
What You Get:
Each 1.58kg tub contains an impressive 40 servings. Its range of flavors beats any others we have reviewed so far. They include chocolate peanut butter, chocolate mint, red velvet cake, turbo chocolate, supercharged strawberry, and velocity vanilla flavors.
Pros:
Platinum Hydrowhey is sugar-free, making it ideal for ketosis
No need for a blender to make a shake
Large quantity means you won't be running out any time soon
Hydrolyzed nature designed for the fast delivery of nutrients
Cons:
Size could make it a large commitment if you dislike the flavor or your fitness goals change
3g of carbs is not ideal for those aiming for a lean physique but a decent trade-off for the protein content
Purchase Optimum Nutrition Now!
This may be one of the best keto shake powders. The range of flavors means anyone can find an option they'll enjoy. The platinum hydro-whey also makes this an optimal choice. Find your favorite flavor of Optimum Nutrition here!
---
7. Kiss My Keto – Protein Powder
Something you should be aware of when following a keto diet, especially if exercising regularly, is that high levels of ketones can lead to dehydration and electrolyte imbalances. This is something that this product has decided to tackle head-on.
Kiss My Keto contains essential electrolytes that your body needs including potassium and sodium. Both of these components are key to your body's healthy functioning. This means that Kiss My Keto is as much a nutritional supplement as a muscle-building one.
Alongside these electrolytes, this powder also gives you some handy calcium and magnesium to support your bone strength and boost your levels of mental and physical energy. Kiss My Keto also packs in L-citrulline, an amino acid vital for your heart health and immune system. Kiss My Keto also packs in valuable omega-3 fatty acids.
What You Get:
You get 25 scoops per bottle of chocolate-flavored protein powder.
Pros:
Collagen peptides support strong teeth and bones
Zero artificial sweeteners and preservatives
Helps you to stay hydrated
Cons:
Kiss Fat Goodbye with Kiss My Keto!
This formula is more than a great complement to a keto diet. It also boosts your overall body functioning. The product is available through vendors like Walmart as well as online. Check it out here for more details!
---
8. Nature's Best Isopure – Zero Carb Protein Powder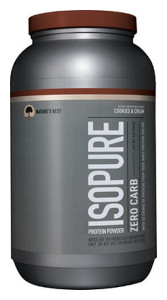 For those with lean muscle on their mind or in the process of cutting weight, it will be hard to beat Nature's Best. They offer zero carbohydrates, which makes Isopure ideal for keeping your body in a state of ketosis.
This powder also contains zero sugars, further cementing it as a solid option for keto athletes and bodybuilders, as well as those simply aiming to improve their health or lose weight.
Nature's Best is the first product in this guide to rival Optimum Nutrition's range of flavors. You can choose between Apple Pie, Colombian Coffee, Cookies and Cream, Dutch Chocolate, Espresso, and Mint Chocolate Chip.
This powder comes with another bonus in the vitamins it delivers. It provides up to 50% or more of your daily intake of many essentials such as B12.
Isopure is also made with 100% whey protein isolate. It is easy to mix with water or milk, saving you time and hassle.
What You Get:
There are 44 servings in a 1.36kg tub. Simply mix two scoops in a shaker or blender and serve.
Pros:
Packed with essential vitamins
Zero carbs and sugars
Wide range of flavors available
25g of protein in a 100 calorie serving
Cons:
Pack it in with Nature's Best!
Packed with vitamins, this product by Nature's Best is hard to beat. If you're looking for more than just a keto protein shake, Nature's Best delivers. Find it here online today!
---
9. Ancient Nutrition – Energizing Caffeine Bone Broth Protein
The low carb intake of a keto diet has some obvious challenges. It can be hard to keep up your energy levels, which can be a stumbling block for those trying to adapt to it. Ancient Nutrition designed their Energizing Protein powder to help you stave off fatigue and power through.
This powder is different from others on this list. It contains powder from chicken bone broth. This innovative approach helps to keep up your energy levels when going keto. Alongside this, Ancient Nutrition also includes naturally occurring caffeine and herbs in this blend, helping you to make the most of nature's organic sources of energy.
This product also manages to keep its net carbs at an impressive one gram. If you are finding a keto diet is leaving you without the energy, but you want its powers of weight loss, consider Ancient Nutrition.
Alongside its herbal content, this powder also packs 14.5g of protein and 5g of MCTs into each serving.
What You Get:
Each tub gives you enough powder for seventeen servings
Pros:
Boosts energy levels and weight loss
Includes ashwagandha root, an herb that naturally reduces levels of fat and sugar in your blood
Bone Broth Protein also works well for a paleo diet
Cons:
Not suitable for vegans
Limited flavors – vanilla and chocolate; the bone broth flavor doesn't mix well with all beverages
Relatively low amount of servings per tub
Get Energized with Ancient Nutrition!
If you want to beat what Reddit users have now termed "keto fatigue," then Ancient Nutrition can help you get there. Drawing all the energizing ingredients from Mother Nature, this formula will help you power through any workout. Find Ancient Nutrition here!
---
10. Kiss My Keto – Protein Powder Birthday Cake Edition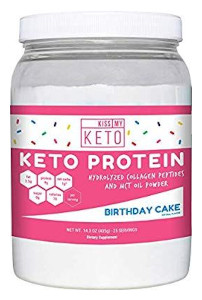 The Kiss My Keto team have released this in a Birthday Cake flavor as a lovely surprise for keto dieters. Many reviewers say that this unusual flavoring masks the aftertaste which MCT oil and Stevia.
It also contains a relatively low 9g of protein per serving and does so with only 70 calories. This makes it a good option for those looking to feel full and build muscle while also achieving greater leanness.
For those who find soy or whey difficult to digest, Kiss My Keto is a good alternative. It also makes digesting the MCT oil easier.
Low-calorie count
Mixes well in hot drinks but doesn't have to be blended
Easy to digest
No artificial ingredients
Cons:
Some complaints of inconsistent serving spoons sent for the same product
Treat Yourself with Kiss My Keto Birthday Cake!
Turns out you can have your cake and eat it, too—even on a ketogenic diet! Find a flavor you'll fall in love with by buying Kiss My Keto Birthday Cake here!
---
Frequently Asked Questions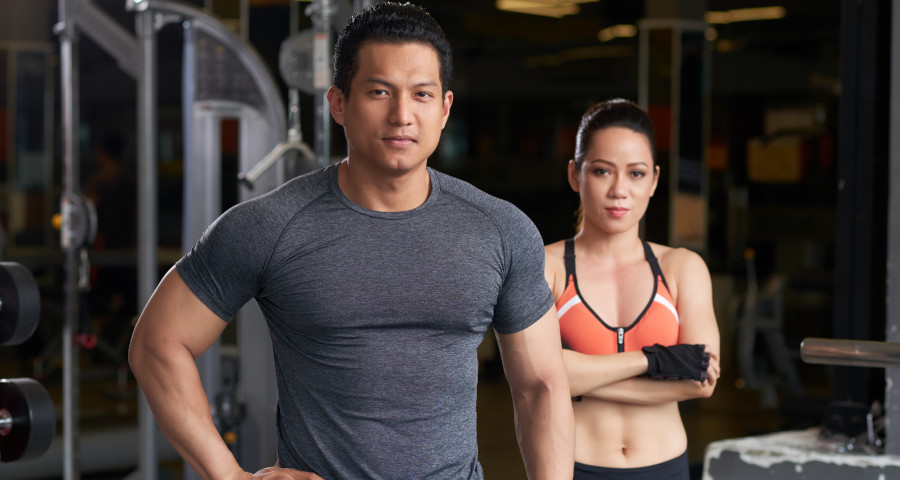 What do I need to eat to enter ketosis?
To enter and stay in a state of ketosis requires careful and sustained effort. It is advised you keep your daily macronutrient intake at around 5% carbohydrates or below. This translates to around 20 to 50 grams of carbohydrates per day, which can be found in 1 to 2 bananas.
How do I know I've entered ketosis?
One of the clearest signs of your body switching into ketosis is bad breath. This is because acetone, a ketone produced by the liver, will leave the body via breath and urine. This means your breath may take on an unusual smell with a slight sweetness.
On the bright side, this does mean that it is quite easy to be aware that you have entered ketosis. More scientifically, it is also possible to use ketone test strips. These measure the volume of ketones in your urine.
What are the health benefits of a keto diet?
Alongside weight loss, a ketogenic diet has also been linked to a whole host of other health benefits. Research has found that following a keto diet can help to:
Improve and/or reverse type 2 diabetes
Reduce feelings of hunger
Fight the breakdown of muscle
Use fat as the body's primary source of energy
Improve brain function and health
Are there any possible side effects of a keto diet?
The transition to a keto diet is often a significant change for the body. This can lead to some side effects, which have become known as keto flu. This can last from anything between a few days or a few weeks.
Reported side effects include:
Decreased energy levels
Reduced mental function
Headaches
Sleep disruption
Nausea and gastrointestinal pain
These side effects can be controlled by maintaining a healthy lifestyle. Some of the products we covered also aim to directly tackle some of these side effects, such as Ancient Nutrition's Energizing Caffeine Bone Broth Protein.
The Verdict
With the popularity of keto diets on the rise, it's no wonder the market has exploded. Our reviews have covered the best keto protein powders available. From high-protein shake mixes, formulas packed with essential vitamins and options for vegan, gluten-free, and non-GMO, you're sure to find the perfect ketosis shake on this list. So what are you waiting for? Take advantage of these offers and launch yourself into ketosis today!
References:
[1] https://www.healthline.com/nutrition/10-benefits-of-low-carb-ketogenic-diets
[2] https://www.verywellhealth.com/do-collagen-supplements-help-arthritis-5101585