It's not much of a surprise that I'm a fan of all things health and fitness. It's one of my greatest passions and of course my blog is based around it. But it's not just a superficial interest. I really love all things about health, wellbeing, beauty, fitness and lifestyle. Each and every part of what I do contributes to my passion.
Because of this, I like to dig deeper. Feeling the way I do about what I do means I don't take it too lightly. I love to know more. I love to be better. So an interest in science has stemmed from my passion.
If you really love and enjoy something, isn't it best to know and do more? I always want to grow and learn when it comes to my health and fitness. I review a lot of products and share a lot of my tips but I also find that I have to know a lot about what I'm testing and writing about before I begin.
One of the things related to health that has always interested me is metabolism. Nutritionists and fitness experts are always looking for ways to manipulate metabolism and instead of just reading along and hoping for the best, I like to know things just as much as they do.
Doing things and trialing products that claim to aid metabolism is always fun. Of course, professionals can give advice on what will keep your metabolism burning but it's subjective, so it will depend on the individual. This is why I like to see things for myself.
Almased & Metabolism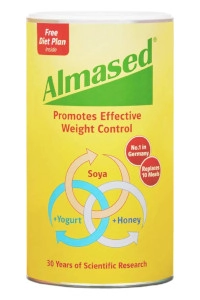 One of the products that has most recently caught my eye in relation to the metabolic rate is Almased. It's been around since 1985 and was created by a scientist that needed to improve the metabolism of his patients, Hubertus Trouillé. Since, Trouillé has really taken the company to the next level with their Almased product and Wellness Teas.
The Almased product itself is a powder. It's all natural and has been made from soy protein with a blend of honey enzymes and milk yoghurt powder – showing just how safe the ingredients are. During manufacturing, they blend together to create a unique formula.
Based on what I could find, I was definitely interested in seeing how the Almased process works for myself.
The Almased Way
When using Almased to improve your metabolism, you have a few options. It's probably the most popular for a reason, but the Almased 14-Day Figure Plan is a really great way to get started. It has a guide for two weeks on losing 10 pounds. It contains meal plans per day and comes in three stages.
There is also The Weight Loss Programme. The Programme is a really effective way to lose weight in a healthy way, rather than through a crash diet. The plan shows you exactly how to use the Almased for maximum effect and keeping you as healthy as possible.
I don't know whether it's something I'd be comfortable using myself, but I know that it can be popular. Almased also has their 14 Day Figure Plan for Fasting. This allows users to make sure they are fasting in a healthy way and Almased also gives some great recipes for fasting shakes in the guide too.
There are also some documents online that will be really helpful to you when using Almased regardless of the programme. The Smoothie recipes are really fun and tasty and the Almased Instructions and Supplement Facts are a great help.
How To Do It
I'd have to say there is no set way in how to use Almased as it would completely depend on what you're looking for. In order to do my Almased review, I went with the 14 Day Figure Plan. I haven't chosen the fasting option as I don't think it'd work for me, but it can work if you're looking to fast for mental or physical results.
So, when using my Almased powder, I have been following the plan. You get to have three shakes per day in the first phase and then as you go through, you replace a shake with a real meal. I actually found it quite easy, it wasn't tough. I thought that the first 1-3 days would be really tough but they were surprisingly easy.
Then, as I got into the reduction phase, where the Almased aims to maximize fat burning, it was even much easier. You have two shakes per day and one solid meal. Then as you get nearer the end you aim to stabilize your metabolism again with one shake per day and the meals going from two to three.
The Almased Results
I have to say that I was expecting great results from this plan. I've not really followed something so strict before, but I was excited to do it and hoping for the best. I wasn't disappointed. I loved the process and it was easy – the results were even better.
So in my 14 day process, I lost 8-9 pounds. I think I would have gotten nearer to 10 pounds if I were heavier, but because I didn't have a lot of weight to lose in the first place, it was a little less for me. The Almased powder is so easy to use and to slot into your lifestyle. So, for this reason, I am going to give the Almased plan a 4 out of 5 for effectiveness.